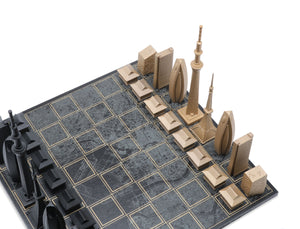 Beautiful and timeless representation of British design
Each piece
HAND-CAST IN SOLID BRONZE
The contrasting finish of the polished light side against the opposing dark, patinated chessmen creates a striking collection of pieces.
A bronze finish is used for the lighter pieces and a patination oil is used to create the darker pieces. The reassuring weight of each piece makes this an extremely tactile chess set and the felt bases lend a softness of touch and beautiful finish to each piece.
High quality
PRESENTATION PACKAGING
Each of our sets come in a luxury presentation box, which contains your set, playing board as well as a certificate of authenticity.
The pieces are housed in precision cut foam to ensure they travel well and be stored safely between games.
The
TOKYO EDITION
With the world's most populous metropolitan area, Tokyo is famed for it's architecture and rich history. 
In this set the Tokyo Skytree and Tokyo Tower play the King and Queen respectively. The intricate facade of the Gakuem Cocoon tower plays the bishop with elegant lines of the Sompo Japan building cast as the knight. The back row is bookended by the Prada Aoyama building and traditional houses are cast as the pawns.