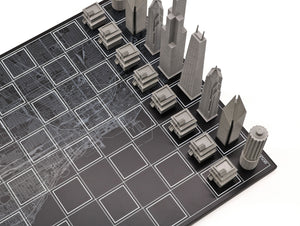 THE BIRTHPLACE OF THE SKYSCRAPER
QUALITY AND MATERIALS
BRITISH DESIGN
Each set comes complete with a board and presentation box and is the perfect product for someone looking for a unique piece of British design.
We have selected the highest quality materials to create beautiful and unique objects for both the chess player and design enthusiast alike.
INSIDE
the Chicago set
The pawn is played by the famous Chicago Bungalow, the circular form of Marina City makes for a mighty Rook, The Crain Communications Building steps in as the Knight, whilst Two Prudential Plaza plays the perfect Bishop. Willis Tower and the John Hancock Centre take centre stage on the board as the King and Queen.