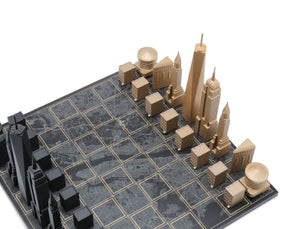 Beautiful and timeless representation of British design
EACH PIECE
HAND-CAST IN SOLID BRONZE
Each piece is hand-cast in solid bronze. The contrasting finish of the polished light side against the opposing dark, patinated chessmen creates a striking collection of pieces.
A bronze finish is used for the lighter pieces and a patination oil is used to create the darker pieces. The reassuring weight of each piece makes this an extremely tactile chess set and the felt bases lend a softness of touch and beautiful finish to each piece.
High Quality
Presentation Packaging
Each of our sets come in a luxury presentation box, which contains your set, playing board as well as a certificate of authenticity.
The pieces are housed in precision cut foam to ensure they travel well and be stored safely between games.
THE
BIG APPLE
Immortalised in this game of greats, capturing the essence of the early 1900's construction boom and the growth of skyscraper architecture across New York's skyline.
The Guggenheim is the rook, the Flatiron Building is the knight, The Chrysler Building makes for an incredibly powerful bishop, whilst the undeniable grandeur of the Empire State Building makes for the perfect queen and the poignant, impeccable design of One World Trade Tower is the only choice for king in this set.
Each set comes complete with a hand screen-printed wooden city map or Italian Carrara marble playing board and in a luxury presentation box.