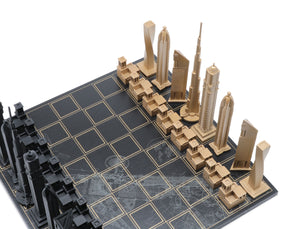 Beautiful and timeless representation of British design
EACH PIECE
DUBAI EDITION
The Dubai Edition was initially designed as part of a showcase of European designers for Downtown Dubai Design Week 2018.
The show-stopping buildings are aptly striking for such a decadent game;  Sheikh Saeed Al Maktoum's House plays the pawn, The Cayan Tower makes for an incredibly elegant rook, the Jumeirah Emirates Towers step in as knight, the Rose Rotana is a beautiful bishop and the Princess Tower makes for a regal queen, with the tallest building in the world, the Burj Khalifa' s commanding stature being fitting for a king.
High quality
PRESENTATION PACKAGING
Each of our sets come in a luxury presentation box, which contains your set, playing board as well as a certificate of authenticity.
The pieces are housed in precision cut foam to ensure they travel well and be stored safely between games.
The
DUBAI EDITION
Available in a range of different materials: Acrylic, Stainless Steel, Bronze and our Gold-plated Edition and as a Special Edition, pitting the City of Gold against another of the architectural greats in our collection.